Description
Fully Integrated Optical Gas Imaging Methane Detection Camera
MetCam is a fully integrated Quantifying Optical Gas Imaging (QOGI) methane detection device which increases site safety by continuously monitoring leaks, covering a large volume, locating and alarming on the presence of hazardous clouds.
MetCam also detects small methane emissions so that effective preventive maintenance operations can be conducted.
MetCam is certified for installation in hazardous locations (Zone 1, Class I Div 1)
MetCam detects Methane leaks in various Natural Gas phases (natural/liquefied/compressed), in facilities such as Compression stations, Natural Gas skids, LNG gasification/liquefaction facilities, LNG and CNG fueling stations.
MetCam output video and alarm signals are displayed and recorded in the control room using standard ONVIF interface.
Industry standard 4-20 mA output is available on-board MetCam, providing smooth integration into existing alarm systems.
MetCam methane detection camera utilizes advanced algorithms for operation in demanding environments and to minimize false alarms.
MetCam is a reliable and maintenance free device, other than periodical external cleaning.
Download Brochure
Highlights
Specifications
Advanced Interface Features
24\7\365 automatic Methane leak detection.
Rates gas cloud threat by quantifying cloud dimensions and concentration.
Visualizes the gas cloud and leak source on a live video.
Industry standard 4-20 mA alarm on-board output
Standard GigE long distance interface with control room.
Optional WiFi interface.
Incidence recording on internal memory.
Withstands harsh environment, IP66 compliant.
Self-calibrated, low maintenance cost.
Approved for hazardous areas/explosive atmospheres, Zone 1 / Class I, Div.1
Provides situational awareness video streaming.
OPTICAL
Field of View
67° Horizontal X 23° Vertical
40 x 12 meters @ 30 meters distance
Working range
10 – 50 meter distance
DETECTIVITY
Safety mode alarm levels
A1 and A2 discrete alarms
Emissions mode
minimal detection level <60 gr/hr Methane
ELECTRICAL
Power input
16-32 VDC
COMMUNICATION
Local
4-20 mA Warning, alarm,
inhibit & fault
To ONVIF Client
Gigabit Ethernet or WiFi (optional)
ENVIRONMENTAL
Explosive Atmosphere Certification

ATEX: II 2 G Ex db ia IIB+H2 T5 Gb

IECEx: Ex db ia IIB+H2 T5 Gb

-40 0C < Ta < 60 0C

NEC 500

Class I Div 1 Groups B, C, D, T5

-40 0C < Ta < 60 0C

Relative Humidity
0% – 100%
Ingress Protection
IP66 IEC 60529
IEC 60529
PHYSICAL
Dimensions
156 x 236 x 183 mm without accessories
Weight
4.3 kg
INTERFACE
Mechanical
4 x 10-32 UNF
Gland entrance thread
3/4ʺ NPT or M25x1.5
Supports user management with password control.
Flexible network setting options.
Access logs and download saved data with ease.
Detection parameter setting.
Links
Application Note – MetCam Ethernet Cable Wiring
Application Note – Methane Cloud Simulation Target
MetCam Instructions for User Manaual (EN)
MeCam Instructions for User Manual (DE)
MeCam Instructions for User Manual (ESP)
MetCam Instructions for User Manual (French)
MetCam Commissioning & WebUI Manual
Certifications:
MetCam – Certificate of Compliance – NORTH AMERICA (USA & CANADA, NEC 500, 505)
MetCam – IECEx Certificate – International Electrotechnical Commission for Use in Explosive Atmospheres
MetCam – EU Type Examination Certificate – ATEX (Atmospheres Explosibles)
A Spectral Camera Makes All the Difference
Is it a Gas or a Dust Cloud?

The sky is a large blackbody radiation source. The emitted sky radiation covers all electromagnetic spectrum including the absorption wavelengths of a R-134a gas. The above infrared picture shows an image of a cloud. It can be a dust cloud that reflects the sky radiation or a target gas. CI Systems' spectral gas imagers can reveal the answer in seconds, without any prior knowledge. In this case it was a R-134a gas. CI Systems' spectral gas imagers are designed to identify target gas clouds.  The explanation below describes the main difference between a FLIR camera and CI Systems' gas imager.
A Single Filter-Based FLIR Camera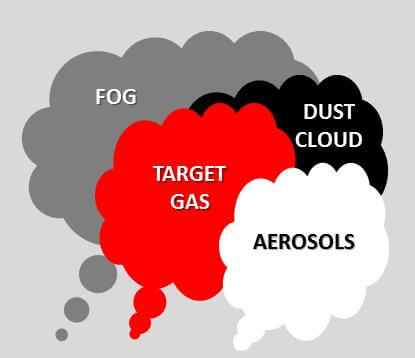 In the traditional type of infrared camera for gas detection, the focal plane array is tuned to a very narrow spectral region where the gas has a strong absorption line, so that it can be detected and visualized. This tuning is done by a built-in filter mounted inside the IR camera dewar. Once the filter is chosen and mounted it cannot be changed.
This technique limits the systems flexibility in the sense that different gases with an absorption feature in the same spectral range of the filter cannot be distinguished among themselves.The diagrammatic figure on the left side illustrates a situation of false alarm. A dust cloud that reflects the sky is seen by a single band IR camera as a cloud of target gas.
CI Systems' Spectral Gas Imager – Multiple IR Bands Imaging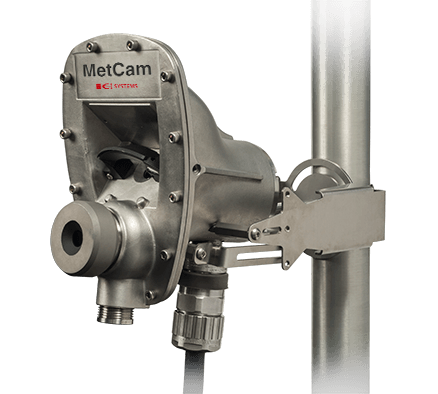 An IR camera capable of providing images in a number of spectral bands can better identify a target gas. Spectral scanning or change detection techniques are better able to distinguish between the target gas and its surroundings and one gas from another.
Some of the advantages of a multiple IR band imaging over a simple FLIR camera or single wavelength FLIR are:
 Enabling unattended gas cloud detection
 Significantly improving discrimination
 Enabling flexibility at the system level
 Significantly improving detection robustness